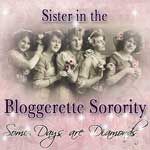 Won't you join us?
It was yesterday I know. I was supposed to post this yesterday and join in the Sisters in the Bloggerette Sorority over at Karen's Some Days Are Diamonds, but I have to admit to a state of inertia in the latter half of this week.
You see, I got up the ladder in order to begin painting the walls of my kitchen (Craig and Rose's 1897 Adam Cream) when I had a huge shock. HOW FILTHY WAS MY CEILING? As you can imagine, I rarely get up there to inspect it closely but I never imagined...
I blame it on the Aga. It does tend to attract dust.
Anyhoo, I hot-footed it to the shops to load up with Flash and two car wash sponges. By Wednesday I was a limp rag, fit for nothing and that's how I've remained until today when I finally have the energy to get off my **** and DO something.
Karen gave us an image of the five sisters in the pic above and asked us to use it in some way, then photograph what we'd done and include one of ourselves. Here is my humble offering. The sisters went through a few incarnations before I finally stopped being embarrassed by my efforts!





I bought this little cabinet in a cs before Christmas. I haven't done anything to it except put the five sisters in the window. I arranged some CK lavender products and lace in the drawer for added interest:

The lilacs and window box were painted with some watercolours I had lying around in the cupboard. The lace trim was left over from when I made my daughter's christening gown:
Lastly, in the words of Mike Yarwood 'And this is me':
Very pleased to have joined the Sisters and I look forward to meeting you all soon when I visit your blogs this weekend.
Blessings,
Andi
xx